The Learning Journey in Primary School encourages children to feel positive about being Jewish and to identify and connect with Jewish life and culture.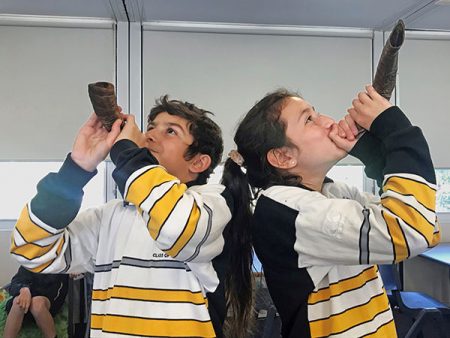 This comprises of five main areas of identity:
Memory – the shared history of how the Jewish people became a nation.
Family – festivals and rituals of the modern Jewish Journey.
Mount Sinai – the laws, ethics, social justice and 'Tikkun Olam' (making the world a better place).
Israel – from the land of Israel to the State of Israel. We teach advocacy skills.
Hebrew – reading, writing and communicating in Hebrew, our shared language.
These five areas of identity are the stepping stones towards a Jewish child's rite of passage to adulthood.
The BJE Jewish Learning Journey in Primary School provides a foundational knowledge of Jewish traditions, festivals, lifecycle and history and commences with SRE (Special Religious Education) or 'Scripture' as it's commonly called. BJE is the only authorised provider of Jewish SRE in Primary and High School.
The pinnacle of BJE's Jewish Learning Journey in Primary School is Project Heritage. Project Heritage is a fascinating, inter-generational learning experience that brings students together with a Holocaust survivor.
In addition to SRE, BJE's Jewish Learning Journey teaches children to become Hebrew literate.
BJE's before- and after-school programs enable children to gain a thorough and expanded understanding of the basics they learnt in SRE. Learning is facilitated through an interactive and experiential curriculum designed to support in-depth Jewish knowledge and understanding.
Our Hebrew programs are recognised by the Department of Education and our before- and after-school Hebrew centres are eligible for Service NSW Creative Kids Vouchers.
The Extension program was developed to allow students to further explore their Jewish heritage, history, culture and values in an experiential and relevant manner. This fee-paying program is offered before school in some centres and after school in others.
This program incorporates the STEM and STEAM approach into the Extension curriculum.  STEM is an educational curriculum that combines Science, Technology, Engineering, and Maths and is used in a comprehensive approach to produce/learn a project. STEAM incorporates all the elements of STEM with the addition of Art. These type of projects are science-based, but also incorporate artistic expression.
By integrating STEM and STEAM into the BJE Jewish Learning Journey (mainly Extension), secular subjects are incorporated into the Jewish lessons and the learning experience is more meaningful and has enhanced relevancy.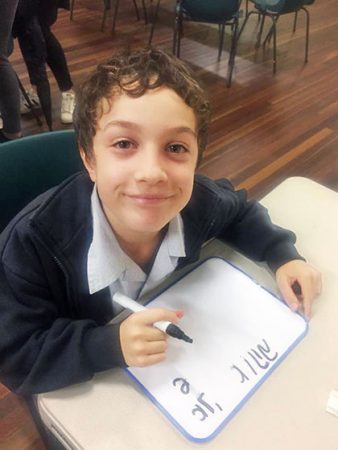 The BJE Year K curriculum is the very successful Chalav uDvash ('Milk and Honey') Hebrew language instruction program designed for early childhood and Year K settings in the Diaspora (outside Israel). The curriculum also encompasses the Aleph to Tav booklet designed by BJE specifically for Hebrew letter recognition.
BJE was the first in the world to write their own Year 1 curriculum, Achshav Korim, which is based on progressing the student's oral language from the foundation laid by the Chalav uDvash program. Students are also taught to read and write Hebrew.
Year 2 and 3 students undertake the Otiyot Korot curriculum, progressing to the Otiyot Kotvot curriculum. This curriculum expands the students' everyday vocabulary, further developing and enhancing students' reading and writing skills as well as introducing the script format of the alphabet.
In Years 4-6 BJE uses the HaKol Hadash and Haverim BeIvrit curriculum to further develop all four language skills: Listening (Understanding), Speaking, Reading, and Writing. This curriculum uses vocabulary relevant to students' everyday life to make the program more meaningful and engaging.  Where applicable in Years 5-6, students participate in the Linguafest competition (a short film competition similar to Tropfest). This is a project-based learning program to culminate the students' language knowledge skills.
BJE is collaborating with Beit HaTfutsot (The Museum of the Jewish People). The program includes four main elements:
Jewish Values – In these lessons students explore Jewish values and community by studying and taking pictures. They examine the relationship between image and text as they discover what it means to look through a "Jewish lens." This component of the curriculum explores a variety of Jewish values through photography. They will discover how the concept of values relates to the words 'value' or 'valuable', whether values (Arachim in Hebrew) are different from rules/ customs/ ideals, where do values come from, what makes some values Jewish, examples of Jewish values, and more. This curriculum sends the students on quests to find Jewish values in their everyday life and soundings.
Jewish Heroes – this program celebrates the ongoing heroism of Jewish life and history. This innovative and inspiring new program reveals that heroes are a vital part of Jewish culture. Jews, like all others, teach the new generation about the values and actions they should pursue through its choice of heroes. Heroes are the subject of countless stories and dreams. They are our role models. But there is something special, unusual about the Jewish hero they have always understood that there are many different ways to be a hero. This is a refreshing view of what it really means to be a hero. Students will meet different types of Jewish heroes throughout our history including scientists, intellectuals, leaders, revolutionaries, cultural figures, athletes and more – men and women with unique talents. This remarkable and diverse selection represents the heroism of our people through history, while showing that success has many different faces. These heroes will inspire students to ask who is truly brave, and to identify their own personal heroes and role models. The curriculum will illustrate that anyone can be a hero.
My Family Story (MFS) – this project, which is now in its 25th anniversary year, is a meaningful and fun Jewish heritage program that involves 20,000 Jewish youth from over 30 countries around the globe. Students research their roots and use their creative skills to design original artistic installations that capture the essence of their family history. Top entries are selected for display in an international exhibition with the winners receiving a free plane ticket to Israel to participate in the opening.
Hebrew reading – to assist students' fluency in reading the Hebrew text in order for them to participate in Jewish services.