At the turn of the last century, Jewish immigrants from Europe mixed in New York and Chicago with black immigrants from the Deep South. Soon they lent their own unique ingredient to America's greatest single musical innovation – jazz. Popular music was seen as a chance to escape from the ghettos.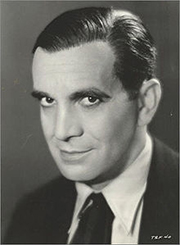 Jazz probably originated in New Orleans in the late 19th century. Meanwhile, Jews started writing popular tunes in New York's Tin Pan Alley (28th Street). In time the two streams met, and urban jazz began to blend klezmer riffs with black gospel harmonies and African rhythms. Some Yiddish melodies became jazz standards (eg. Bei Mir Bist Du Shein turned into Burton on the Ritz). Al Jolson popularised jazz and was a popular singer and entertainer, but these days is best remebered as the star ofThe Jazz Singer (1927), the first full-length 'talkie' movie (movie with sound), which tells a fictional story about a cantor's son who becomes a jazz singer. Harry Kandel mixed jazz and klezmer (1917-21).
Jazz was the racist's worst nightmare. In the 1920s Henry Ford warned that 'moronic and sensuous Jewish jazz music' was corrupting white youth. In the 1930s the Nazis banned jazz as 'degenerate Jewish-Nigger music'. Skorvetczky writes how Communists also persecuted jazz musicians in Czechoslovakia (see "Red Blues" and "The Bass Saxophone").
Classically trained and musically innovative, Benny Goodman was also one of the first major white musicians to play openly with black colleagues during the swing period, so flaunting an unofficial 'colour bar'.
George Gershwin incorporated jazz motifs in compositions like 'American in Paris' and 'Rhapsody in Blue'. His brother Ira continued with the Tin Pan Alley tradition.
With Lee Konitz on the alto saxophone, Al Cohn was central to the bebop revolution.
Stan Getz became one of the most popular jazz players of the 1960s and 1970s. He blended the 'cool school' of Lester Young with Brazilian bossa nova.
Jews predominate in the business side of the jazz industry. Many gave jazz supernovas their first big break. Producers include Ben Shapiro, Bostoner Steve Schwartz, David Tarnow (MJQ), and Ben Sidran.
Many Jews were modern pioneers such as saxophonist Kenny G, the Brecker brothers, saxophonist Herb Geller, Argentine composer Lalo Schifrin, pianist Stu Katz, Brazilian singer Flora Purim. Jewish rock stars with a jazz background include Billy Joel.
The klezmer revival of the 1970s has led to hybrids like klezmer/jazz in a traditional Chicago style (Maxwell Street Band), and more avant-garde jazz fusion (East of Eden, UK; Kabology, USA). Additionally, there is Andy Statman's Hassidic Jazz; Jewish/ Arabic/ jazz fusion (Israel's Bustan Avraham and Eve's Women); and jazz from the Black Hebrews of Dimona. US black musicians often pay tribute to jazz's Jewish inheritance, for example Herbie Hancock in his 1998 album 'Gershwin's World'.
As performers, producers and educators, Jews remain deeply involved with jazz. Yet it is still hard to define the genre (despite its new acceptability) – or its Jewish content!
---
Links