The first great Jewish Western composer was the Renaissance Italian, Salomone de Rossi, who set Hebrew texts to music. North America and Israel formed the centre of Jewish music in the post-war era.
Fromental (Elias) Halevy (b. May 27, 1799, Paris; d. March 17, 1862, Nice, Fr.) wrote a five-act grand opera La Juive (1835 The Jewess) and became one of the progenitors of early French grand opera.
Jacques (originally Jacob) Offenbach was born June 20, 1819 in Cologne (d. Oct. 5, 1880, Paris). Anti-Semitic colleagues chastised him for writing 'low brow' light opera.
Georges Bizet (b. Oct. 25, 1838, Paris; d. June 3, 1875, near Paris) is best known for his opera Carmen (1875). Yet little in his music affirmed his Jewish origins.
Felix Mendelssohnn-Bartholdy (b. Feb. 3, 1809, Hamburg; d. Nov. 4, 1847, Leipzig) was a nephew of Moses Mendelssohn. One of the most celebrated figures of the early Romantic period, he was a composer, pianist, musical conductor and teacher.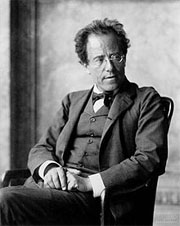 Gustav Mahler (b. July 7, 1860, Kaliste, Bohemia, Austrian Empire; d. May 18, 1911, Vienna, Austria) composed ten symphonies and various songs with orchestra. Mahler bridged 19th century Romanticism and 20th century Modernism and was director of the Vienna Court Opera. Germanic themes predominate in his music, yet there are definite hints of klezmer, too.
Ernest Bloch (b. July 24, 1880, Geneva, Switz; d. July 15, 1959, U.S.), composed many works on Jewish themes: Israel Symphony (1916), Trois poèmes juifs (1913), the tone poem Schelomo (1916; Solomon), the suite Baal Shem (1923) and a sacred service, Avodath Hakodesh, for baritone, chorus, and orchestra.
Mario Castelnuovo-Tedesco (b. April 3, 1895, Florence, Italy; d. March 15, 1968, Hollywood, Calif, U.S.) was a Neo-Romantic composer and victim of anti-Semitism.
Aaron Copland (b. Nov. 14, 1900, Brooklyn, N.Y, U.S.; d. Dec. 2, 1990) composed characteristic American themes in an expressive modern style.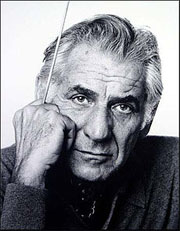 Leonard Bernstein (b. Aug. 25, 1918, Lawrence, Mass., U.S.; d. Oct. 14, 1990, New York, N.Y.) worked as a conductor and flamboyant composer, noted for memorable classical and popular music. He introduced classical music to many young people, latter writing several pieces on Jewish themes, such as the Chichester Psalms.Perhaps best know of all his compositions were those for the musical Westside Story.
Steve Reich (b. October 3, 1936, New York, N.Y, U.S.) is an American composer who was one of the leading exponents of minimalism, a style based on repetition, and combinations of simple motifs and harmonies.
Being Jewish does not guarantee that you will compose 'Jewish music'. However, the revival of folksy elements by Bartok, Liszt, Katchatchurian, Stravinsky and others, encouraged Jews to explore their own traditional music.