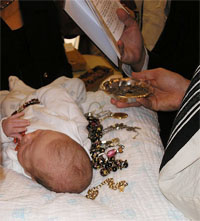 Pidyon Haben is translated into English as the 'Redemption of the Firstborn'. In the Book of Numbers 18:15-16 we read:
"The first issue of the womb of every being, human or animal, that is offered to the Lord shall be yours [the priests'], but the firstborn of humans shall be redeemed, and the firstlings of unclean animals shall be redeemed. Take as their redemption price from the age of one month up, the money equivalent to five shekels by the sanctuary weight, which is twenty gerahs."
Pidyon Haben applies only to the firstborn male child. The child does not require a Pidyon Haben if he was delivered by Caesarean section, nor if the mother had miscarried previously beyond 40 days. If either of the grandfathers is from the Levitical tribe, i.e.: a Cohen or Levi, the child is also exempt.
The Torah claims for God every firstborn, both human and animal. The firstborn male of ancient Israelite families had special obligations since, from the day of his birth; he was consecrated to the vocation of assisting the priests in the conduct of the sacrificial cult. Once the Tabernacle was built, this duty was transferred to the Levites. Since that time, firstborn Jewish males have been released from their obligation through a ceremony called Pidyon Haben.
The redemption ceremony takes place when the child is a full thirty days old, hence from the thirty-first day of life, unless that day falls on a Shabbat or festival, in which case other arrangements are made, often for later that night after the Holy Day has ended. This is because part of the ritual involves a financial transaction, which is forbidden on holy days.
The ceremony involves a Cohen (a direct descendant of the priestly family), who at the outset of the ceremony is given the baby. Following some negotiation, he returns the baby to his parents for the contemporary equivalent of five shekels of silver. A seudah (celebratory meal) accompanies the celebration.