The Learning Journey in High School focuses on K'lal Yisrael (the Jewish people) as a global family with a shared mission of Tikkun Olam (making the world a better place).
Jewish identity continues to be explored through the '5 areas of identity' which are:
Memory – the shared history of how the Jewish people became a nation
Family – festivals and rituals of the modern Jewish journey
Mount Sinai – laws, ethics, social justice and 'Tikkun Olam' (making the world a better place)
Israel – from the land of Israel to the State of Israel. We teach advocacy skills
Hebrew – reading, writing and communication in Hebrew, our shared language.
Please see our High School Framework page for further information.
BJE will continue to provide and expand its reach educating students through SRE lessons. The curriculum expands and deepens students' knowledge of Jewish history, ethics and values.
In high school, BJE uses the Ulpan Or curriculum. This is an online curriculum allowing for individual progress by students.
For more information, please see the Ulpan Or website.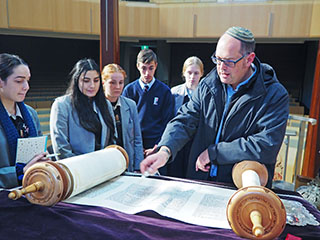 We offer programs related to Judaism for students attending non-Jewish schools who are learning about Judaism as part of their faith studies. Our programs cater to students across all high school year groups, and we also have programs specifically designed for students undertaking the NSW Studies of Religion course. Each year students travel the length and breadth of New South Wales to participate in our programs and enjoy visits to synagogues and the Sydney Jewish Museum in addition to our presentations on various aspects of Judaism.
We also offer an annual Inservice to teachers of the NSW Studies of Religion course.
To find out more, please see our Studies of Religion & Faith Studies page.