Do you have a child or know a child starting Year K at a non-Jewish School in 2024?
BJE is hosting a "Meet and Greet" for the Year K Class of 2024, and their parents. 
This is a great opportunity to kick start your child's BJE Jewish Journey and connect with other families in a fun and engaging way.
Learn about Jewish Educational Programs and social activities available in the community.
Event Details
Date: Sunday 12th November 2023
Time: 2pm – 4pm
Price: $10 entry per family (inc. activities & snacks, coffee available to purchase on the day)
Location: Specific location to be confirmed upon registration (free parking)
*Please note all children must be accompanied by at least one parent/carer for the duration of the event.
*Security will be present at the event.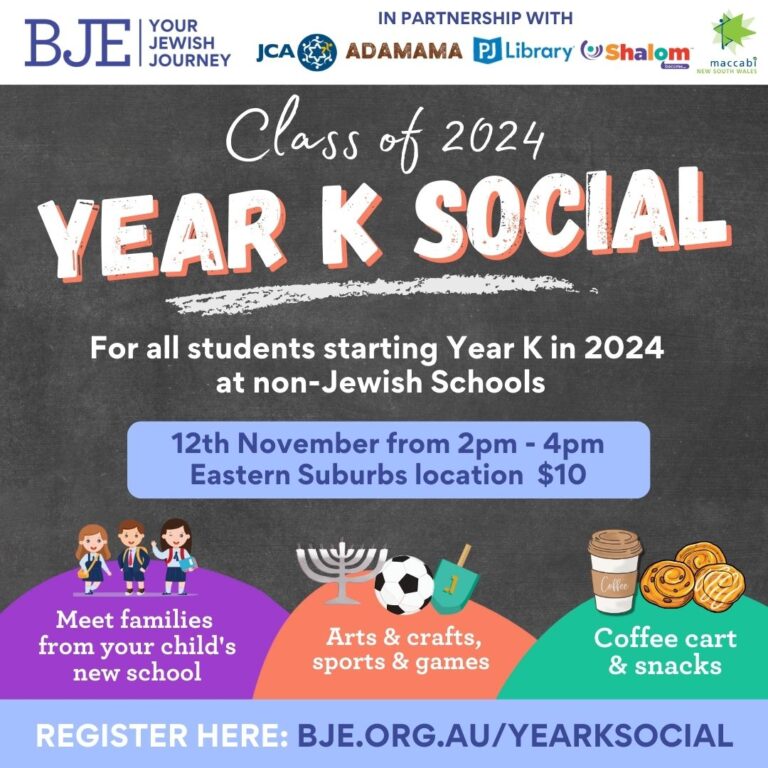 🥐 Kosher snacks 
☕️ Coffee cart
👩🏻‍🏫 Meet the educators who provide Jewish Education at non-Jewish Schools 
⚽️ Hear about the opportunity to play Maccabi sport
🌳 Learn about the cultural opportunities Shalom has to offer
👨‍👩‍👦 Connect with families from your child's new school
🅿️ Free parking 
🎨 Activities including:
  – Dreidel decorating with BJE
  – Recycled Chanukiya making with Adamama
  – Grassheads and nature treasure hunt with PJ Library
  – Soccer and netball games with Maccabi
  – Tzedakah box creation with JCA
If you have any questions or queries about this event, please contact info@bje.nsw.edu.au.