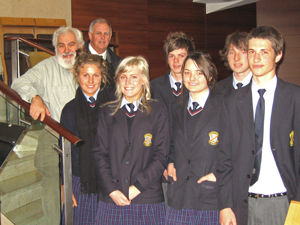 BJE offers schools or groups of non-Jewish students study programs on content related to Judaism in general, Jewish festivals, celebrations, customs, Jewish rituals, Jewish ethics, Jewish history, sacred writings, women and Judaism and other topics related to the Jewish community. We also offer programs specifically for senior high school students undertaking the NSW Studies of Religion syllabus. Individual program are arranged in consultation with the schools of visiting students so that the programs address their specific requirements.
Each year, thousands of students and teachers visit the BJE Centre for workshops or lectures with senior educators. In conjunction with this, tours can be arranged to places of Jewish interest in Sydney, such as the Sydney Jewish Museum and synagogues.
Schools that have visited BJE recently as part of their Human Society and Its Environment (HSIE), Society and Culture or Studies of Religion courses include:
MacKillop College, St Pauls Catholic College, Carinya Christian School, Our Lady of Lebanon College, Waverley College, Brigidine College, St Patrick's College, Oakhill College, Avondale High School, John Therry Catholic College, Ravenswood High School for Girls, Freeman Catholic College, Kinross Walaroi School, St Stanislaus College, All Saints College St Marys Campus, Loreto Normanhurst and others.

SAMPLE PROGRAM
Below is a sample program for students undertaking an Outreach Program with BJE. Please note that all aspects of the program are negotiable. We also have programs geared specifically to the requirements of Studies of Religion students and addressing the requirements of that curriculum.
9am
Arrive at BJE, 56 Roscoe St, Bondi Beach.
Tour of Jewish Education Centre and video presentation "Jews of Oz".
Jewish Life in Australia – An Introduction.
9:30-10:15am
Discussion – "Life as a Jew in Australia" led by a Senior Educator.
10:15-10:30am
Morning Tea provided.
10:30-11:30am
Discussion – topic as pre-arranged e.g. 'Jewish Ethics' or 'Jewish Rites'. Please note that we are able to suggest and provide material in relation to a wide range of topics.
11:30-12:45pm
Travel to and visit Central Synagogue, Bon Accord Avenue Bondi Junction.
Lunch
OR
11:30-12:45pm
Walk around Jewish Bondi and visit book store, kosher bakery and kosher butcher
12:45-1:30pm
Travel to Sydney Jewish Museum, corner Darlinghurst Rd and Burton St, Darlinghurst.
1:30-3:30pm
Guided tour of Sydney Jewish Museum. Entrance Fee: approx. $6 per student.

TESTIMONIALS
" I would like to thank BJE so much for inviting us here and letting us come and learn about Judaism. We come from a small community of Catholics and this is our first contact with Jewish people. It is so interesting to hear all about Judaism and their way of life. Thank you. "
" Especially in today's difficult times, it is so important to have an understanding of all religions and cultures to help increase tolerance for all communities in Australia. It is wonderful to see connection between what happened 3000 years ago and relating it today and your way of life. "