JOINT COMMITTEE FOR JEWISH HIGHER EDUCATION
Joint Committee for Jewish Higher Education
146 Darlinghurst Rd, Darlinghurst, NSW 2010
Tel: 02 9360 1600
Fax: 02 9331 4712
Email: mail@nswjbd.com
The Joint Committee is able to provide comprehensive advice as to higher education courses related to Jewish Studies currently available in Sydney.

FLORENCE MELTON SCHOOL OF ADULT JEWISH LEARNING, SYDNEY
The Florence Melton Adult School of Adult Jewish Learning provides adults with an opportunity to learn more about the history, culture, philosophy and practice of Jewish life in a stimulating, interactive environment. The curriculum, developed by the Hebrew University, is taught in 62 locations throughout the world. Students can take courses in the Melton "Core Curriculum", taught over 4 semesters, which cover the big questions in Jewish thought and belief; Jewish holiday and life cycle practices; significant events in Jewish history; and how Jewish thinkers approach contemporary issues affecting our lives and community.  Students can start or continue their learning with individual courses such as "Beyond Borders: The History of the Arab-Israeli Conflict", "Israeli literature as a Window to Israeli Society" and "The Star and the Crescent: The Long Relationship of Judaism and Islam".  Courses from the "Shiv'Im Panim" series exploring the books of the Torah through texts, artworks, poetry and commentary are also popular. Classes are held over 4 and 10 weeks, day and evening, in venues around Sydney.
Contact Hilary May Black, Melton Director, at hilary.mayblack@sydney.edu.au or 0400 435 099. 
For more information and course bookings:  https://cce.sydney.edu.au/courses/arts-humanities/jewish-culture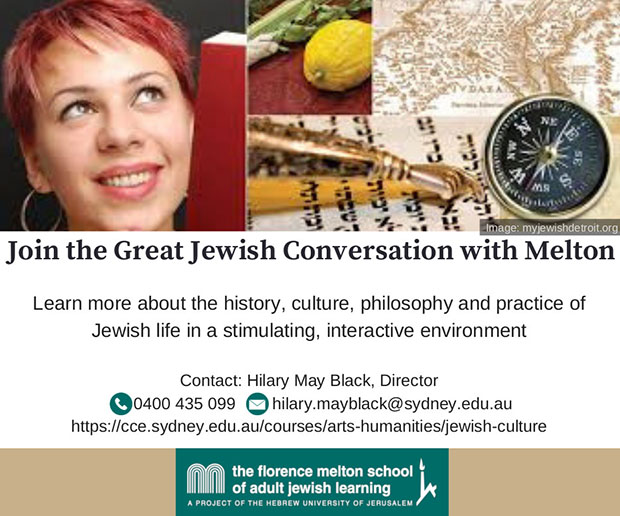 THE SHALOM INSTITUTE
The Shalom Institute provides educational programs for students, young adults and adults, including the acclaimed Mosaic Program, Limmud-Oz, Jewish Free University and frequent lunchtime lectures. Accredited by the NSW Department of Education, the Institute offers courses that can lead university graduates to a Graduate Certificate or Graduate Diploma in Advanced Jewish Studies. The website includes comprehensive details about courses, facilitators and lecturers, and also allows students to register online. Contact www.shalom.edu.au

Encounters At Shalom
Encounters At Shalom is responsible for programs including the Mosaic Program (offering regular evening and day classes to adults), Limmud-Oz and the Sydney Jewish Writers' Festival. For more information, please see their website.

Network
Network is the young adult department of the Shalom Institute. They publish a monthly calendar which details all activities and programs for young Jewish Sydneysiders (ages 25 – 40). They also boast a fantastic interactive website and can be contacted at info@network.org.au

HILLEL
Hillel runs Leadership programmes for Jewish University students – including Goal Setting, Programming, Public Speaking, Group Dynamics, Presentation Skills and Leadership Styles. Hillel also conducts Leadership courses for Jewish school students. Our website also contains links to all Jewish-related courses at the various universities in NSW. Contact tania@shalom.edu.au or http://www.hillel.com.au

SHALOM COLLEGE
Shalom College provides accommodation and kosher meals to students and staff of the University of New South Wales and the general public. It provides a Jewish environment on campus. Contact shalom@shalom.edu.au or http://www.shalomcollege.unsw.edu.au

DEPARTMENT OF HEBREW, BIBLICAL & JEWISH STUDIES, UNIVERSITY OF SYDNEY
Undergraduate and postgraduate courses in Classical and Modern Hebrew, Jewish Civilisation, Biblical Studies, Arabic (language) and Islamic Culture.
Building A14
University of Sydney
Sydney NSW 2006
Tel. 02 9351 7862
http://www.sydney.edu.au/arts/hebrew_biblical_jewish_studies/

CONTINUING EDUCATION AT SYDNEY UNIVERSITY
The Centre for Continuing Education often offers courses in various areas of Jewish studies. These vary from semester to semester.

MANDELBAUM HOUSE, UNIVERSITY OF SYDNEY
Mandelbaum House provides accommodation and kosher meals to University of Sydney students, academics and casual visitors; hosts academic activities and other community events; hosues the Mandelbaum House Library and the office of Mandelbaum Publishing.
385 Abercrombie Street, Darlington NSW 2008
Tel. 02 9692 5200
Email: admin@mandelbaum.usyd.edu.au

JEWISH STUDIES AT THE UNIVERSITY OF NEW SOUTH WALES
Program in Jewish Studies, School of Politics & International Relations
The University of New South Wales
Sydney NSW 2052
Tel. 02 9385 1555
For more information see http://www.handbook.unsw.edu.au/undergraduate/specialisations/2009/JewishStudies.html