The Knowledge Centre has been designed to help you find information on all things BJE related.
There are two ways you can search:

1. Either enter your text in the search box
or
2. Use the filters to choose the target audience and/or category.
the bje jewish journey The BJE Jewish Journey is part of an integrated program we provide to students in non-Jewish schools. It begins in Primary
Primary school social journey enquiry form:
Interested or potentially interested in your child joining BJE's events and programs? To  enrol your child in any of our paid programs for Primary School,
The BJE Jewish Social Journey in high school is designed to ensure that teens continue to build their Jewish friendship networks and connection to the
ISRAEL JOURNEY BJE's Israel Program for Year 10 students is a unique opportunity to take part in a 5-week study of Israel where students mix
The Learning Journey in High School focuses on K'lal Yisrael (the Jewish people) as a global family with a shared mission of Tikkun Olam (making
Social Journey Parent and child events A series of events around the Chagim, Shabbat Project, Mitzvah Day, Book Week and more! Year 6 CamP This
The Learning Journey in Primary School encourages children to feel positive about being Jewish and to identify and connect with Jewish life and culture. This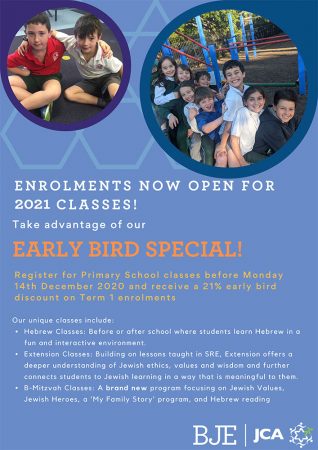 Enrol now and earn your reward! A generous discount applies to Primary School enrolments made before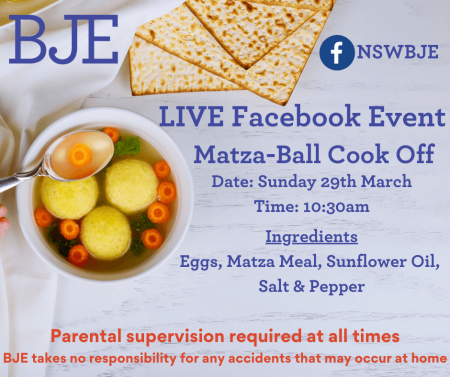 Join BJE & OBK to prepare for your Pesach Seder by learning how to make your very own matzo balls!