The Knowledge Centre has been designed to help you find information on all things BJE related.
There are two ways you can search:

1. Either enter your text in the search box
or
2. Use the filters to choose the target audience and/or category.
"Serve the Lord with joy, and come before Him with singing," wrote the psalmist. Music played a pivotal role in ancient Jewish observance. The advent
Chassidic Judaism has produced much weighty commentary and scholarship, yet simple folk tales have always been intrinsic to the movement. The Chassidic masters used stories
Once denigrated as fit only for Jewish celebrations, klezmer has undergone a remarkable revival. It has metamorphosed beyond its East European roots, and now encompasses
Challah is the traditional plaited bread especially baked for Friday night and Saturday daytime (Shabbat) and other holidays. Although it is customary to home bake
This sub-section of our website contains pages about a number of 'Jewish' items or experiences. Challah Bagels Klezmer Music Chassidic Tales Chassidic Song
The English translation of the word mitzvot (the plural of the word mitzvah) is 'commandments'. Judaism teaches that God revealed His will in the Torah
INTRODUCTION Jews have lived in the land of Israel for nearly 4000 years, going back to the period of the Biblical patriarchs (c.1900 BCE). The
This section of our website has pages providing broad and basic information about Judaism. To view a page, please click on one of the links
Images for the following Yeladim Lomdim characters are available for download (click on the name of the character, then when the image opens, do a
The additional teaching resources listed below are available for download. Note that all resources are for use in BJE classrooms only and permission to download
Additional Teaching Resources for Otiyot Alef-Tav Please note that these additional teaching resources are provided for use in BJE classrooms only. Permission to download and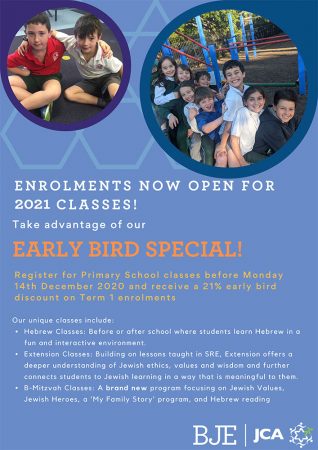 Enrol now and earn your reward! A generous discount applies to Primary School enrolments made before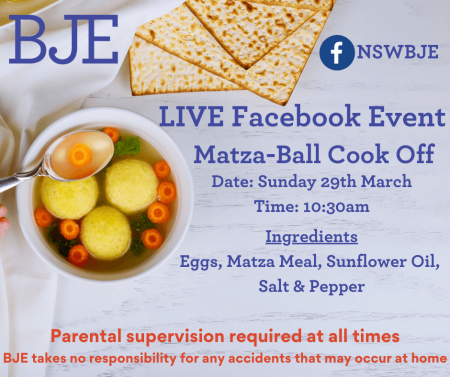 Join BJE & OBK to prepare for your Pesach Seder by learning how to make your very own matzo balls!