The Knowledge Centre has been designed to help you find information on all things BJE related.
There are two ways you can search:

1. Either enter your text in the search box
or
2. Use the filters to choose the target audience and/or category.
Come celebrate the end of the school year with friends at BJE's Movie Under The Stars on 14th, 15th and 16th December. Our venue will
Enrolments are now open for BJE classes in 2021. Previous Next Some information about our classes: Hebrew Classes: Before or after school, where students learn
Enrol your child for a fun day camp on Friday 16 April! Run by BJE and JNF with support from Maccabi, PJ Library and HaTzofim,
Chief Executive Officer About BJE The Board of Jewish Education (BJE) has a clear strategy to provide a 'Jewish Journey' through primary and high school.
Please use the form below to give your consent to your child being photographed /videoed whilst taking part in BJE activities and events. 
What is Chanukah and Why do we Celebrate It? Chanukah is a holiday that lasts 8 days (and nights) and happens every year in late
Donate Now 2020 has been a challenging year for all of us. For BJE it has been in  keeping  your children engaged with the BJE
BJE is currently looking to employ teachers. The positions available are part time and may involve teaching at a number of different schools. Formal teaching
The Ash Levi Leadership Camp The Ash Levi Leadership Camp is BJE's signature leadership development program. At this camp, Year 11 students develop crucial leadership
Aish haTorah: Passover (index of Pesach-related pages on Aish haTorah) The Art of Leading an Amazing Seder Games & Tips for the Seder The ABCs of Passover (about
For many centuries, other people ruled over the land of Israel and made it part of their empires. This ended in 1948 when the independent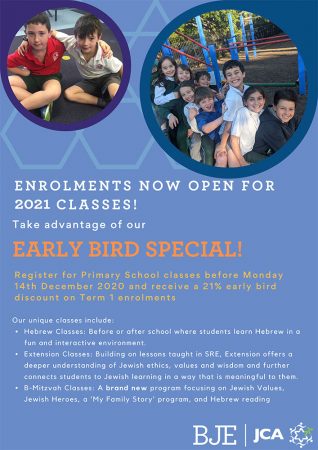 Enrol now and earn your reward! A generous discount applies to Primary School enrolments made before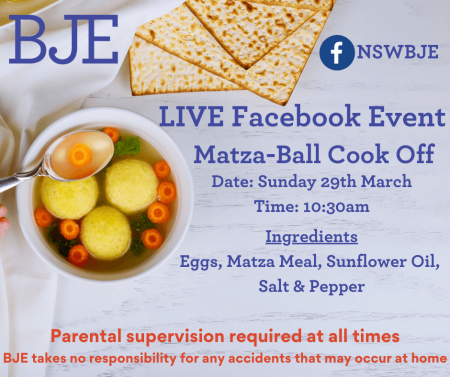 Join BJE & OBK to prepare for your Pesach Seder by learning how to make your very own matzo balls!