The Knowledge Centre has been designed to help you find information on all things BJE related.
There are two ways you can search:

1. Either enter your text in the search box
or
2. Use the filters to choose the target audience and/or category.
What is Chanukah and Why do we Celebrate It? Chanukah is a holiday that lasts 8 days (and nights) and happens every year in late
Donate Now 2020 has been a challenging year for all of us. For BJE it has been in  keeping  your children engaged with the BJE
BJE is currently looking to employ teachers. The positions available are part time and may involve teaching at a number of different schools. Formal teaching
The Ash Levi Leadership Camp "The Ash Levi Program was an incredibly impactful experience. It taught us about the impact of our actions on other
Aish haTorah: Passover (index of Pesach-related pages on Aish haTorah) The Art of Leading an Amazing Seder Games & Tips for the Seder The ABCs of Passover (about
For many centuries, other people ruled over the land of Israel and made it part of their empires. This ended in 1948 when the independent
BJE is fortunate to have a friendly and dedicated team committed to the welfare of our students and families. We invite you to consider becoming
Update to BJE's Safety Policy at Rose Bay Public School We are so happy to be back in the classrooms at Rose Bay – it's
• Payments are due prior to your child/ren attending class. [Note: fees are not payable for SRE, Special Relgious Education, commonly known as 'Scripture', and
Complaints Procedure Fees Policy Privacy Policy
Our Board President: Ms Tahlia Gordon Vice-President: Mr Athol Chiert Treasurer: Mr Tom Levi Board Members: Dr Avril Alba, Mr David Balkin AM Board Observer: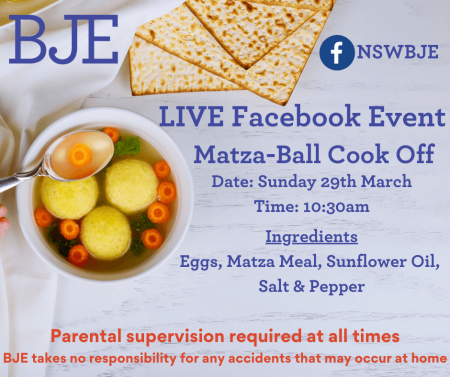 Join BJE & OBK to prepare for your Pesach Seder by learning how to make your very own matzo balls!