We offer programs related to Judaism for students attending non-Jewish schools who are learning about Judaism as part of their faith studies. Our programs cater to students across all school year groups, and we also have programs specifically designed for students undertaking the NSW Studies of Religion course.
Each year students travel the length and breadth of New South Wales to participate in our programs and enjoy visits to synagogues and the Sydney Jewish Museum in addition to our presentations on various aspects of Judaism.
We also offer an annual Inservice to teachers of the NSW Studies of Religion course. In 2020, due to COVID-19, the Inservice was offered as a series of online webinars – for more details, please see our SOR Professional Development for Teachers web page.
To contact us and find out more, please use our SOR Initial Enquiry form.
COVID-safe online presentations for students
Due to COVID-19 and the limitations placed on schools, BJE is introducing the option of having presentations on SOR topics of your choice made online to students.
If you are interested in arranging a Zoom incursion for your school, please complete our online Initial Enquiry Form and we will contact you to discuss the possibilities.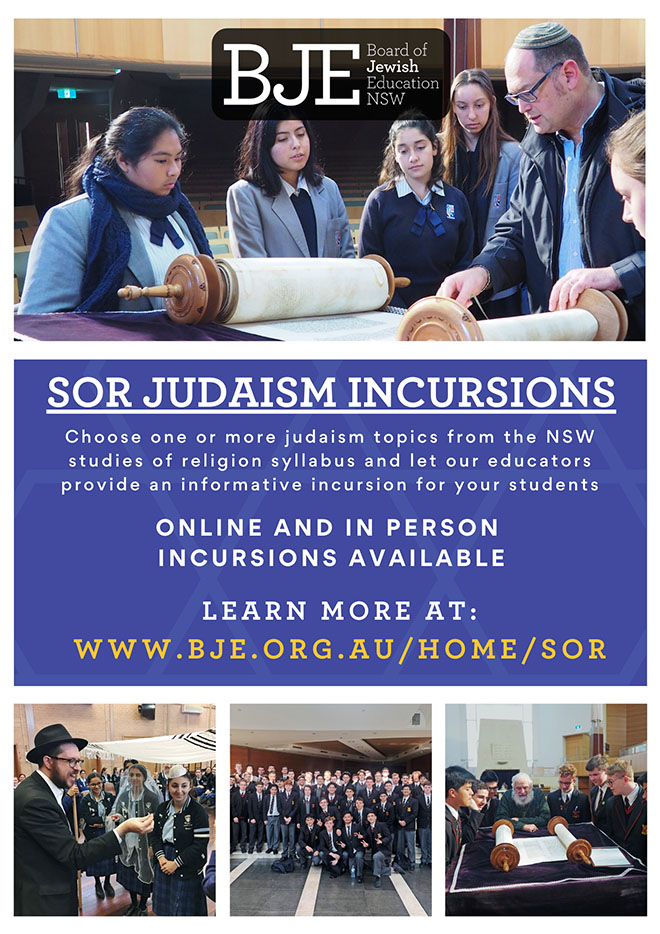 How to book a presentation
Are you a teacher or school administrator interested in booking a Judaism presentation for students? If so, please use one of our booking forms:
Please note: all bookings are subject to written confirmation.