BJE offers In-Service training for teachers of the Studies of Religion Preliminary and HSC courses in NSW. These in-services are open to all teachers and have proven very popular with a number of teachers travelling considerable distances in order to attend.
Our next In-Service will be on Tuesday 21 March, 2017, and a copy of the day's program is below. Please note that our In-Service is held once per year, so don't miss your opportunity for 2017! Please see below (under the program information) for links to book, download the program or order your lunch on the day.
For all inquiries in relation to SOR In-Services please contact Shula by email or at 02 9365 7900 (Tuesdays & Wednesdays).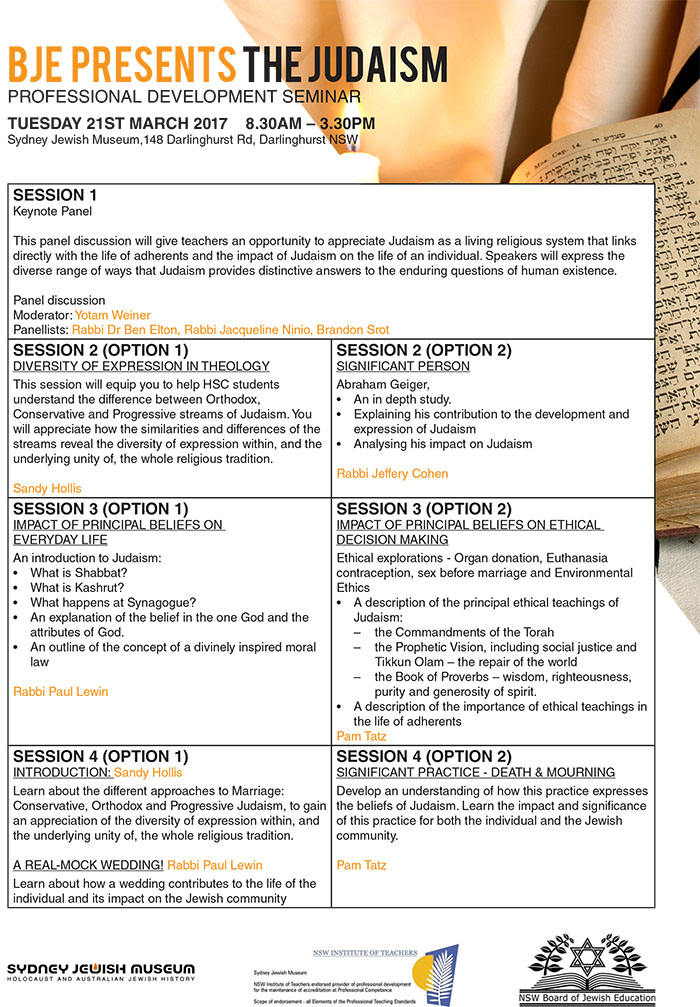 Bookings may be made using our Online In-Service Booking Form. Alternately, you may download our PDF 2017 In-Service Booking Form, print it, complete it and submit it back to BJE.
To book lunch on the day, please use our Lunch Order Form.
The following documents are also available at the links below:
There is no need to submit a PDF booking form if you have already submitted an online booking form.
If you have any inquiries about our In-Service please contact Shula at 02 9365 7900 (Tuesdays & Wednesdays). However, please note that our Office will be closed for its summer break from 24 December 2016 to 22 January 2017 (inclusive).