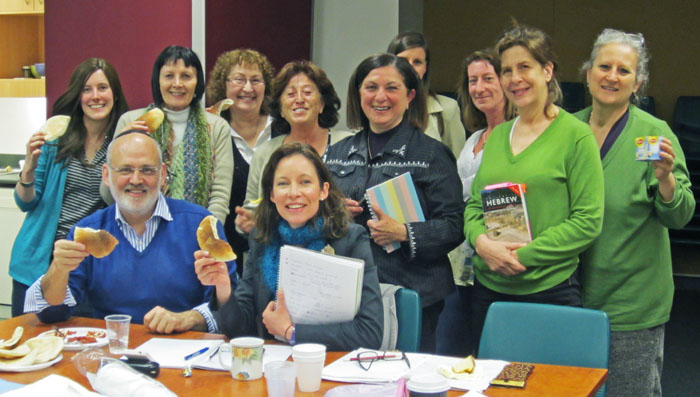 BJE has been successfully offering adult Hebrew classes for over twenty years. Taught by the very experienced teacher Sarah Friend, students learn how to converse in Hebrew in order to interact in everyday life both in Israel and abroad.
The students come from all walks of life and are aged from 18 years and upwards. Classes are held during the week and are streamed according to the student's level of Hebrew: Beginners, Intermediate and Advanced.
Students who attend come for a variety of reasons. Some plan to visit Israel and want to be able to communicate in everyday situations. Others want to assist their children at school in their Hebrew studies. Still others want to learn more about Jewish heritage or current events in Israel.
The conversations and activities in class are designed to relate to areas within students interest and experience. There are no exams or compulsory assignments to hand in. Sarah makes the lessons easy to learn, stimulating and, most importantly, enjoyable with plenty of humour. The intention is to instill in students confidence to speak Hebrew when an opportunity arises in Israel, with Israeli friends or partners in Australia, or with grandchildren whose parents have made Aliyah to Israel.

WHAT DO STUDENTS LEARN IN HEBREW LESSONS?
Teaching sometimes involves watching recent Israeli movies, eating Israeli meals together or performing in playlets on the topics discussed during the lessons. Students also have the opportunity to read Israeli newspapers and participate in class debates.
WHEN DO LESSONS START AND RUN?
Lessons are organised on a semester basis (a semester is equivalent to half a year or two school terms). A new beginners group usually starts each semester, subject to there being sufficient students enrolled to form a class.
Lessons run weekly during school terms but there is a break from lessons during school holidays.

IS THERE A COST?
There is a fee for the Adult Hebrew program which is paid in advance per semester. We try to keep the fees as low as possible.

HOW DO I ENROL?
An enrollment form may be downloaded from our website; the completed form should be returned directly to BJE.